Vampire Romance Novels that Will
Leave You 'Thirsty'
Vampire romance novels have become a huge sub-genre of romance fiction, and it just so happens to be one of my personal favorites. What's all the fuss about?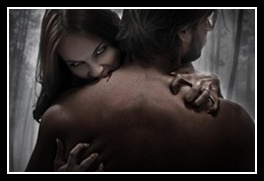 There are so many people on differing sides of opinion about this subject, we thought up a fun little list of pros and cons to help settle the matter on our end before we get on to the list of recommendations.
If you're reading this page we are fairly certain where you stand on the matter but we thought it'd be fun anyway. So here goes...
Common Sense Reasons to Stay Away from Vampires:
They can take you out before you even know they are near
Making eye contact can often make you a slave
They are technically dead
They sustain themselves on the blood of humans
They are very territorial
They can smell you from lord knows how far (which is a bit creepy if you think about it)
10 Reasons Vampires Are So Very Appealing:
They are ridiculously sexy
They can run faster than your car, which is awesome
They don't have to, ahem... come up for air
They can be very open minded, when need be
They are virtually indestructable
They are very territorial
They bring a lot of 'life' experience to the table
They are unwaveringly loyal
They are incredibly strong with a bit of a tender side
They can smell potential danger from lord knows how far (which is no longer a creepy but very helpful skill)
Need I say more? ;-)
Need something for young adults instead? Check out our teen vampire romance novels here
Recommended Vampire Romance Novels For Adults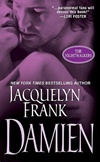 If you love a tall, dark and sexy vampire who's first and most obeyed instinct is to take what he wants, Damien by Jacquelyn Frank is the book for you.
Damien, the reigning Vampire Prince is a man who's experienced all the pleasures of the world. Still, when he rescues a Lycanthrope Princess from certain death at the hands of his enemy, he's caught off-guard by the exquisite hunger she awakens within him.
Even though all the signs tell him to avoid her like the plague, Damien can't resist his need to claim her. But taking her as a mate will have deadly consequences for his, and every other, Nightwalker race.

The Black Dagger Brotherhood by author JR Ward is another of my favorite vampire romance series. I've only read 5 books out of the 9 that have been published but the rest are at the top of my tbr list. Absolutely addicting.
The brotherhood is a group of vampire warriors sworn to protect their race from the evil Lessening Society, a group of evil beings that have waged war on the vampires for ages. Each book focuses on a different brother and his mate or shellan.
Just FYI: these are some seriously sexy books, no holds barred, so if you can't take explicit language and intimacy, you probably shouldn't read them.






The Dark series novels by Christine Feehan, though sometimes a bit predictable, are a fantastic series of vampire romance novels to dive into. They're a bit tamer than the previously mentioned books, however, they're sexy nonetheless.
These are the stories that got me hooked on the vampire romance genre! You don't need to read them in order, though it does help because each book builds onto the incredible world that Feehan created around the Carpathian vampire race. If you like old world mannerisms and men with really possessive characteristics, you'll like these books.







If you like the previously mentioned Black Dagger Brotherhood, or, if you haven't yet read it, but like lots of action mixed in with your romance, the Midnight Breed novels by Lara Adrian are the perfect choice.
These are written with similar style, and have similar characteristics as the BDB series, but they are definitely not a knock off. As with the BDB, each book focuses on a different breed male and the female he takes as his breedmate, and each story is well balanced with action, romance, and well defined characters that are each unique in their own right.

If a strong, kick butt heroine who's hell bent on ridding the world of as many blood-suckers as she possibly can is your thing, you'll love Jeaniene Frost's Vampire Huntress novels.
Kat is half vampire and she's hunting down every vampire who crosses her path. Until she meets Bones, the most powerful vampire she's ever encountered and the only one who's ever tempted her to do more than drive a stake through his heart. These are fast paced, funny and very exciting to read, and Kat has become one of my all-time favorite characters in a vampire romance novel.







Though I haven't yet read these, I thought the many recommendations I receive to do so was enough to add them to the list. Kim Harrison's Rachel Morgan series, or The Hollows is full of various paranormal creatures including vampires, werewolves, witches and more.
The main character, Rachel is both a witch and one of the best bounty hunters the Inland Runner Service has, and it's her job to keep the peace between the Inlanders (supernatural races) and the humans- no matter what the cost.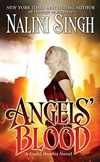 If you're in the market for something a bit different than most of your average vampire romance novels, check out Angel's Blood by Nalini Singh. The main character Elena is a vampire hunter who is hired by the archangel that everyone loves to fear... Raphael.
He's the most beautiful man she's ever laid eyes on and equally as dangerous. From the moment she arrives, Raphael begins his attempts to seduce her, but she knows all too well that it's far too dangerous a temptation. Archangel's quite often break the mortals they play with.
This is not a true vampire romance, but it does contain vampires, and sex and lots of steamy lovin'... along with lots of immortal hunting and killer action. Pun intended ;-)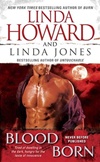 Another good read with a fairly decent action-romance balance was Blood Born by Linda Howard. Luca is a blood born vampire and assassin for the Council, and he's called in to hunt one of his own when a powerful member of the Council turns up murdered.
Bit by bit, he uncovers a plot by a group of rogue vampires to take control of the human world and intervenes when he finds out they are killing off conduits, humans able to channel warrior spirits into the world to help them fight off the threat.
Luca saves the life of a conduit, Chloe, and the pair of them work together to save the humans from being overrun by the monsters of Luca's world, and explore the growing tension burning between them.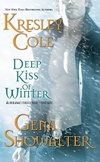 Untouchable by Kresley Cole will sear the edges of the pages it's written on! I loved this book. It's a combo containing a story from Gena Showalter as well, but it couldn't hold a candle to Untouchable. It's completely original and full of tension so fierce between the main characters it's palpable.
Murdoch is a vampire who's heart started beating for the first time in 300 years the moment he came into contact with Daniela, who is a Valkyrie and part ice fey.
Desire burns hot between them, but physical contact is painful beyond imagining for the fragile Valkyrie because her ice cold skin can't take contact from anyone other than those of her kind.
Let me tell you... by the time these two finally got to enjoy each other physically, I was on the edge of my seat in pleasure-pain with the both of them. This is an absolute must read.

What's Your Favorite Vampire Romance?
Do you know of some super sexy vampire romance stories you think other readers would enjoy? Share them with us!

Check Out What Other Vampire Romance Fans Recommend
Click below to see contributions from other visitors to this page...


Vampire Romance - Vampiric Not rated yet
Vampiric is an original vampire romance that is definitely worth reading. It is the first in the series, although how many other follow-ups there will …