Teen Vampire Romance Books to Read
Experience young love- vampire fiction style!
Browse a growing list of the best vampire romance books for teens, and find the best places to shop for the vampire romance stories you love!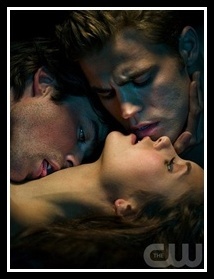 As I'm sure you know, vampire romance stories have become a widespread favorite amongst girls and women of all ages. The downside of this is that it's often hard to find the truly great books that are worthy of your time.
That's where we come in.
We've started compiling a list of all the devour worthy vampire romance stories that we've come across, and asked our readers to share their favorites too.
Below you'll find the beginnings of a list that we hope will grow to epic proportions. Everything on it has been read and recommended by us and other BFB readers, and is well worth a good devouring or three. Enjoy!
Want Fresh Updates on the Latest Vampire Romance Books?
Join other subscribers of "The Reading Corner"
and be first in line for special alerts
Best Books for Teen Vampire Romance Readers
Below you'll find a variety of great vampire romance stories for teens and young adults.
Many of these books link to a review page where you can find more information about any of the books that interest you as well as additional recommendations for comparable reading material.
If you're looking for a more mature reading experience, we also have a list of top vampire romance novels for adults that will scorch your eyeballs right out of their sockets!
Note: Any book you find here that is not currently a link will be shortly. We just haven't had a chance to get the review page up yet

Wanna add your own top picks to the list? Click here to get started

Twilight Book
New Moon Book

Twilight Eclipse
Breaking Dawn

Marked

Betrayed

Chosen
Untamed

Hunted
Tempted
Burned
Awakened

Destined
The Silver Kiss
Shattered Mirror
Night World Volume 1

Night World Volume 2

Night World Volume 3

Night World Strange Fate

Vampire Academy

Frost Bite

Shadow Kiss

Blood Promise

Spirit Bound
Last Sacrifice

The Awakening & The Struggle

The Fury & Dark Reunion

The Return: Midnight

The Return: Nightfall
The Return: Shadow Souls
What's Your Favorite Vampire Romance?
Do you know of some super sexy vampire romance stories you think other readers would enjoy? Share them with us!
Related Book Categories
Related Shopping Pages