The House of Night
The House of Night is a young adult fantasy romance series by author PC Cast and her daughter Kristin Cast.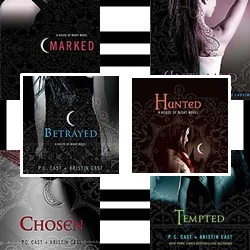 It's about a girl named Zoey Redbird, who gets "Marked" and has to move into the "House of Night" finishing school where she will learn how to be a full fledged vampire.
As the story progresses, Zoey learns that she has been blessed by the goddess Nyx and she learns to rely on her intuition and the guidance of Nyx to walk the path the goddess has set before her.
These novels have a little bit of everything, but they are truly geared to a younger audience. Friends, enemies, frenemies, love, loss, boyfriend issues to no end and LOTS of teen angst and drama.
In the end Zoey will have faced the ultimate betrayal from someone she thought she could trust above all others and some of the hardest decisions she'll ever have to make in her life.
She learns how to handle herself, she makes a lot of mistakes and she learns her lessons the way we all did when we're young. As a fledgling more powerful than any before her to enter the House of Night, Zoey is faced with some of the hardest decisions she'll ever have to make in her life.
Book One: Marked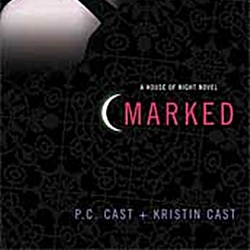 After getting Marked as a fledgling vampire, Zoey Redbird begins a whole new life at the House of Night finishing school.
There she learns to embrace her destiny and follow the path the goddess Nyx has set before her.
In addition to starting a new school, she's an outcast to her old friends and her family. None of them want anything to do with her now that she's marked.
Add to that the fact that Nyx has taken a special interest in Zoey and she is the most powerful fledgling the House of Night has ever known. Marked is a great first book in a fresh young vampire series.
The House of Night is unlike any other series I've read in this genre and I thoroughly enjoyed it... despite being outside the age range it was written for.
Zoey finds out that Aphrodite, the leader of an elite school club, is mis-using her power and decides something has to be done about it. It takes a lot to dig deep enough to muster up the courage and take on her newfound destiny head on, but she handles it like a champ and it makes for a great read.
Book Two: Betrayed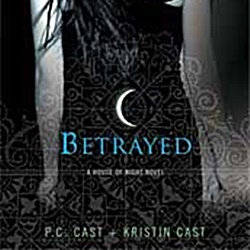 There's a lot going on at school. Tragedy strikes and claims the life of someone close to Zoey, not to mention the fact that Neferet is starting to show her true colors. Add to that the fact that human teenagers from Zoey's past are turning up dead, and the police are investigating the House of Night.
Zoey is finally starting to feel at home. She's the new leader of the Dark Daughters, she's got some really great new friends and she even has a boyfriend. But when people from her past start turning up dead, Zoey can't help but feel like the power that makes her so special might just be putting everyone she loves in danger.
She has to dig deeper than ever to work up the courage to face the darkest betrayal yet. One that could shatter her soul and leave her world in pieces. Neferet isn't quite what everyone believes her to be, and when she finally starts to see the truth behind the front, Zoey finds an unexpected ally in the only other person who's noticed... Aphrodite.
There's a lot of action in Betrayed that I kind of missed in Marked. While both books were good, I thought this one surpassed the first. It was more exciting and kept me reading because I couldn't wait to find out what would happen next.
Book Three: Chosen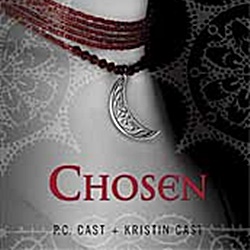 In Chosen, there is more going on than ever. Stevie Rae is back... but she's undead and currently struggling to hold on to the last shreds of her humanity.
Zoey is getting a little ridiculous in the boyfriend department. One was more than enough... two was pushing it. Now she's got three! Really?
Despite the boyfriend drama, there is a lot that I enjoyed about this book. The issue of what to do about the Red fledglings still lingers as do all the other secrets Zoey and the gang have been keeping from everyone.
While there are things about the books that bug me, I can't help but find the House of Night slightly addicting.
With everything going on and all the secret keeping, Zoey needs a friend more than ever that she can confide in. The only person she has at school she can talk to about Neferet's dirty little secret is Aphrodite. Unfortunately, Zoey's inner circle doesn't exactly want to accept her.
Those three boyfriends I mentioned earlier. Yep... the proverbial crap is about to hit the fan in that cozy little situation and I can't really say that I'm sad about it. I think we could explore the story much more soundly without the boyfriend drama getting in the way of the story, but I know younger readers may prefer to have it as it is, and I respect that.
Chosen is a really good story that keeps you entertained and intrigued. I thoroughly enjoyed the book as much as I did the previous two. I think it's a wonderful addition to the House of Night series and it is consistent with the style of the previous books.
Book Four: Untamed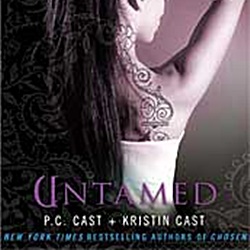 Life sucks right now for Zoey Redbird and it's slightly hard to feel bad for her. She kind of dug her own grave with the boyfriend mess, but to each his own. In a single week she lost three boyfriends and all her friends.
Now she's little more than an outcast, currently being shunned by everyone who previously trusted and supported her.
Neferet has declared war on the humans and Zoey knows it's wrong. Will anyone listen to her though now that she's burned just about every bridge she'd built since she came to the House of Night?
This chapter has Zoey in a mess as she tries to get her friends back and convince Erik to give her another chance. In addition to that, she now has to perform a cleansing ritual in front of EVERYONE, and she's one element short.
Things sort of blow up as usual when a plan to out Stevie Rae and the red fledglings goes horribly awry and they end up right where Neferet wants them.
I enjoyed this volume of the series, though it isn't my favorite. Neferet is a seriously nasty piece of work and I can't believe that no one can see it. I am waiting for the day that she gets what's coming to her and I hope Zoey is the one to give it to her.
Another great book with lots of excitement and action going on. It's easy to feel a part of the story because aside from the special powers some of the fledglings have, they really are relatable characters. It's great to be able to connect with a book, and this series is one I've certainly grown attached to.
Book Five: Hunted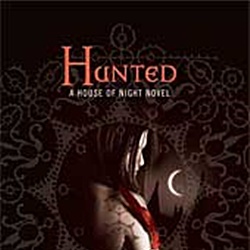 In Hunted Neferet and her new consort Kalona have taken over the school. Stevie Rae and the red Fledglings are no longer a secret, and Zoey and the gang are stuck in the tunnels underneath the city to steer clear of Neferet.
Zoey has a much needed second chance at making things right with Erik, but she can't keep Kalona out of her dreams or Stark off her mind. Not to mention she imprinted with Heath... AGAIN!
Kalona is a pretty bad guy and he seems determined to have Zoey at all cost, no matter what Neferet wants. He is incredibly powerful, and he's in Neferet's pocket but no one seems to understand how dangerous he is.
A past life is key to breaking Kalona's spell but Zoey isn't sure she's ready for what she might find along the way. She and the gang need to find a way to deal with Kalona before Neferet uses him to bring their entire world down around their feet.
I enjoyed Hunted a bit more than I did Untamed. The action is getting more exciting and I can't wait for Neferet and her new powerful consort to get what's coming to them. Again I was hoping the end of this book would bring about the end of Neferet I was again left wanting.
I'm glad that Stark finally chose to pledge himself to Zoey. Hopefully she'll work out that multi boyfriend issue and make a freakin' choice already. Aside from the constant irritation this causes me, Hunted is a great book. Without giving too much away I will say there were some unexpected moments and events that I didn't see coming and it was a very nice surprise.
Book Six: Tempted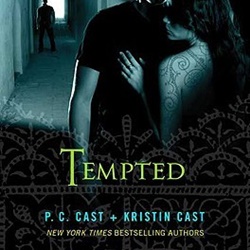 Tempted was definitely a bit unexpected. A lot of the story went how I thought it would but there were some serious surprises and twists in the book that caught me off guard.
I cannot believe that Neferet has made it through book 6! What? She and Kalona are wreaking all kinds of havoc now.
I just hope that when something finally happens, it's big and it's final. And it better be worth the wait, that's all I'm saying.
To make a long story short, and refrain from giving away key details to the plot of this book and spoil it for you if you haven't yet read it... just expect a few surprises.
Zoey gets railroaded in Tempted. Not only does she suffer a very tragic loss in the end, but she loses a part of herself that has become her identity. Neferet and Kalona are obviously still at it and are more psychotic than ever.
The akward imprint between Stevie Rae and Aphrodite is resolved in this book, if only replaced by another even more shocking imprint that you won't see coming!
I haven't really decided how I feel about the ending. I was definitely shocked and absolutely NOT expecting what happened, but I enjoyed it nonetheless.
If you like the House of Night, you may also enjoy: