Most Popular Children's Fiction Books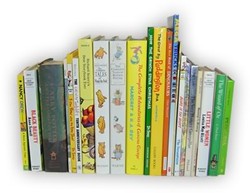 Browse a wonderful selection of children's fiction books for kids of all ages.
Whether you've got young children or young adults, you'll find something here to keep them occupied with fun, educational reading material.
To get you started, we've added a few suggested starting points below based on your child's age and reading level.
Just visit the links under the category that your child falls into for a list of recommended reading and other helpful resources.
Babies, Toddlers & Young Children
If you're children aren't quite reading on their own just yet, we've got a great section of fun read aloud stories and books for beginning readers including books for toddlers, recommended board books and the best of Dr. Seuss.
Independent Readers
If your kids are school age and independently reading, here's a few of our top rated recommendations for early readers, children's chapters and classic literature for children.
If you're just a kid looking for a good book to read, we've got a growing library of top recommended young adult fantasy and fantasy book series that you might like too.
Children's Book Categories
Share Your Favorite Books in this Category
Do you or your children have a particular attachment to any special books in this category? Please do share. Our readers are always on the look out for great recommendations and we love hearing about why you love them.

Home | Children's Fiction Books