Best Classic Childrens Books
Re-discover some of your favorite classic childrens books from back in the day.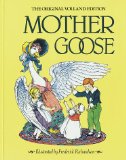 You remember the ones. The books that you wanted to hear every night before you went to bed. The ones you enjoyed so many times you had them memorized.
I loved a little bit of everything when I was in school... Amelia Bedelia, Ramona Quimby, The Little House books, Nancy Drew, The Velveteen Rabbit. My absolute favorite though, was Mother Goose The Original Volland Edition
Stories like these have enchanted children for decades. Introduce your kids to the magic of timeless childrens literature.
Classic Children's Stories
5 Little Monkeys Jumping on the Bed

Amelia Bedelia
Brown Bear, Brown Bear, What Do You See?
Clifford the Big Red Dog
Corduroy
Curious George
Goldilocks and the Three Bears
Goodnight Moon
If You Give a Mouse a Cookie
Little Bear
Winnie the Pooh

Where the Wild Things Are
The Very Hungry Caterpillar
The Three Little Pigs
The Tale of Peter Rabbit
The Story of Babar
The Little Red Caboose
The Little Engine that Could
The Giving Tree
Morris Goes to School
One Fish, Two Fish, Red Fish, Blue Fish
The Cat in the Hat
Green Eggs and Ham

Horton Hears a Who
Aesop's Fables
The Ugly Duckling
The Velveteen Rabbit
Charlottes' Web
The Little House Books
The Boxcar Children
Are We Missing Your Favorite Children's Story?
Take a moment and add it to the list for other parents to check out
Share Your Favorite Books in this Category
Do you or your children have a particular attachment to any special books in this category? Please do share. Our readers are always on the look out for great recommendations and we love hearing about why you love them.