Wondrous Strange
Wondrous Strange is the debut novel of young adult fantasy author Lesley Livingston. This is a fun, easy read that will melt your heart and frustrate you all at the same time.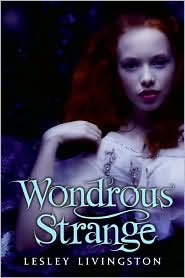 I was engrossed enough to read it cover to cover in one sitting. It's a wonderful story, full of magic, love and the deepest kind of betrayal.
For seventeen-year-old actress Kelley Winslow, faeries are just something from childhood stories.
Then she meets Sonny Flannery, whose steel-gray eyes mask an equally steely determination to protect her.
Sonny guards the Samhain Gate, which connects the mortal realm with the Faerie's enchanted, dangerous Otherworld.
Usually kept shut by order of icy King Auberon, the gate stands open but once a year.
This year, as the time approaches when the Samhain Gate will swing wide and nightmarish Fae will fight their way into an unsuspecting human world, something different is happening... something wondrous and strange.
And Kelley's eyes are opening not just to the Faeries that surround her but to the heritage that awaits her.
Now Kelley must navigate deadly Faerie treachery-and her growing feelings for Sonny-in this dazzling page-turner filled with luminous romance.
This is a richly layered tale of love between faerie and mortal, betrayal between kings and queens, and magic... between author and reader.
When I first picked up Wondrous Strange, I didn't realize it was part of a trilogy, so when I finished it, I was a little peeved... until I found out that there would be more to the story.
If you like books with action and drama, this is definitely a great choice. There's a mixture of danger, love, parental drama, magic and fairies! What more could you ask for in this genre?
While I haven't yet read the rest of the series, I thoroughly enjoyed this first book, and plan on at least grabbing the second book to see where Ms. Livingston's first foray into the world of fantasy books takes us. 
If you've read the House of Night series or the Night World, the action in this first book is comparable to both, though the story is much shorter and slightly less dramatic than either.
It's hard not to fall in love with Sonny and Kelley and the sweet, innocence of their budding relationship, and it makes me want to explore where the rest of the series will lead them and how things will end up.
What to Read After Wondrous Strange: 
***FACEBOOK-LIKE1*** ***FACEBOOK-COMMENT***