The Black Dagger Brotherhood Series
The Black Dagger Brotherhood is a band of vampire warriors bred to protect their race against the growing threat of their enemy, the Lessening Society.
The books are written in multiple points of view, both throughout the side of the good guys and their enemy. For anyone who doesn't like a book with multiple points of view, it's hard to get around because it switches often, but I enjoyed it despite this fact.
The enemies of the Brotherhood, the Lessers, are quite nasty, and parts of the story are through the eyes of their less than savory ranks which allows you see things from a darker, more unfiltered perspective.
If you stick with it for the long haul you'll absolutely fall in love with the colorful cast of characters you'll meet along the way and you'll get a story packed with action, suspense and sizzling romance.
The characters have a wonderful chemistry, and I enjoy the secondary characters in a book every bit as much as the primary ones. I love a book that engrosses me and keeps me invested in what is happening to the various characters in the book.
Keeping all that I just said in mind, I will forewarn anyone who is light of heart and can't take a book with explicit material. J.R. Ward is not one for sugar-coating her charcters or the situations they face so these books are stuffed full of innuendo and f-bombs. If you can't handle foul language, don't read this series.
But if you can handle a tall, dark and Vishous vampire that has a potty mouth the likes of which would make your grandma blush all the way down to her toes, then you're golden!
Book One: Dark Lover
Wrath is the last of the purebred vampires, thanks to the Brotherhood's centuries old enemies, the Lessening Society, who killed Wrath's parents when he was just a boy.
Now, full of vengeance for the murder of his parents, the Vampire King takes more pleasure in destroying the forces of the enemy than any other Black Dagger brother.
But when one of his best fighters and most trusted Black Dagger members is slain, leaving behind an orphaned, half-breed daughter who knows nothing of what she is or the fate that awaits her, Wrath takes on the responsibility of bringing her into the world of the vampires.
Dark Lover is passionate and steamy and the Black Dagger Brotherhood is truly unique and sexy. Even more, the secondary characters that surround the Brotherhood heat things up just as much as the primary characters and leave you dying for more.
If you're in the mood for a true vampire romance, unlike any you've ever read, this is a must read. However- just a warning- if you don't like books that push the boundaries, this may not be the series for you.
Ward may be many things but she's certainly not one to use nice language and sweet talk when she's portraying her characters and the intensity of their encounters- intimate or otherwise.
Book Two: Lover Eternal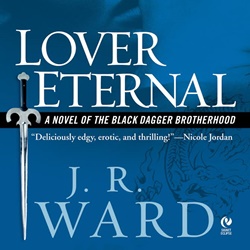 Lover Eternal is the second installment in the Black Dagger Brotherhood series. This is the story of Rhage- the strongest and most beautiful of the brothers- and his shellan, Mary.
Before I started this one, I was a little worried that I wouldn't like his personality, but it turns out he's really just a soft caring sweetie pie deep down under all that excess muscle mass.
I can honestly say that after reading his story, Rhage has become one of my favorite characters in the series. He turned out completely different than I expected him to be and it was surprisingly genuine.
The soft, tender moments between the pair took center stage and turned out to be some of the best in the book. I anticipated each and every moment they shared and I couldn't wait to find out what happened in the end.
Mary sees herself as an 'average' woman who is in no way extraordinary. Rhage however, sees an angel... unlike any woman he's ever been with and he can't seem to get enough of her. It's incredibly touching and sinfully sexy. I truly enjoyed this book as much... if not more than I did Dark Lover, and for very different reasons. Don't miss it!
Book Three: Lover Awakened
Lover Awakened is the third installment in the Black Dagger Brotherhood series, and tells the story of Zsadist, the scarred, tortured brother, and his Shellan, Bella.
This book was intensely emotional and scorching hot... easily my favorite book in the series.
This installment is very easily my favorite book in the Black Dagger Brotherhood series. Possibly even my favorite of all the adult paranormal romance stories I've read to date.
Zsadist's story is so emotionally touching... it's definitely one with the ability to take your breath away no matter how many times you read it.
It was shocking to learn the horrible truth of his past and the emotional and physical scars he bears as a constant reminder.
But it was beautiful to see Bella awaken in him something he never thought possible.
Though he fought it like hell, he eventually came to realize that they needed each other, and worked hard to overcome his past to prove to her that he loved her.
The beauty of this story is that Bella's love for him... her very presence in his life is healing beyond words, and it awakens a side of him he's never known. This is one of the most emotionally breathtaking vampire stories I've ever read.
Book Four: Lover Revealed
Book four in the Black Dagger Brotherhood series, Lover Revealed! YAY!! Finally. I've been waiting to read this book for so long.
From the very first moment Butch and Marissa had together, I was totally hooked. I built up my expectations as I waited and, while I did enjoy the book, I was slightly disappointed in the story overall.
I feel like Butch and Marissa sort of got robbed. Every couple up to now has been the primary focus of the story, even when the brothers are having major lesser trouble.
However, I feel like they kind of took a back seat to the rest of the action. Which isn't horrible. The story was still good, I just feel like they really got robbed. And I feel a little robbed.
I fell in love with Butch and Marissa from that first, wicked little taste of their scorching chemistry in the Dark Lover, the first book in the Black Dagger Brotherhood series.
Butch is hilarious. I don't know if it's because he a bit of a smart ass, but he's always had a way with words that just steals my heart. He makes me laugh and that's not always an easy thing to do.
By the time that fleeting moment they shared in Dark Lover had passed I was already invested in their story... which didn't come until BOOK 4!!
Those moments the two of them shared in the end of Dark Lover blew my socks off. The anticipation killed me while I finished reading book two and three, so I guess it's a bit my own fault for getting soexcited about it but it somehow left me wanting more.
I wanted the sizzle between Butch and Marissa to be present throughout the book, and for me, it just wasn't as intense as I hoped it would be. However, the story was still fantastic. I enjoyed almost as much as previous volumes in the series.
As usual, secondary characters were every bit as present in the story as the main characters. Many times in this book I felt that the supporting characters stood out-shined the main couple.
If you like the Black Dagger Brotherhood, you may also enjoy: