The Riley Jenson Series
Riley Jenson and her brother Rhoan are half vampire, half werewolf guardians for the Directorate of Other Races. The Directorate basically polices the worst of their kind, taking down killers, rapists and those that prey on anyone they feel inclined to.
Unfortunately for Riley, this means she must come face to face with some of the vilest individuals the Australian population has ever known.
I am addicted to this series. Riley is a strong, independent heroine who can kick some major butt, but she's also a woman, and a wolf. She has more than her fare share of fun and more often than not, she gets to have her cake and eat it too. Or, should say, have her vampire and snack on a werewolf or two?
The villians are typically fairly twisted so if you don't like reading about that sort of thing you won't want to read this series but they are a really fun read. Also, she has multiple partners throughout the series, as is the nature of Keri Arthur's werewolves, so keep that in mind when deciding whether or not to read it.
Book One: Full Moon Rising
As the judge, jury and executioner for all supernatural beings, the Directorate is responsible for hunting down and dispatching those who don't follow their laws.
As first books go, Full Moon Rising is really engrossing. A great start to the series. Riley takes a big step in the direction of becoming a Guardian (an assassin) for the Directorate when Rhoan goes missing.
When the pull of the moon is at it's strongest, she hast to force aside her wolf's natural urges to find out what happened to her brother and how she's going to get him back.
With a little help from a dark, sexy and very naked vampire named Quinn, who showed up on her doorstep at the perfect moment, Riley uncovers a lot more than she ever expected to find.
This is unlike any book I've ever read in the vampire/werewolf romance genre. As a werewolf, Riley and her brother are suseptible to the moon heat every month leading up to the full moon, when all wolves are prone to the mating call of their animal half and often engage in sexual intimacy with more than one partner.
Tons of action, I love the characters. The writing is fairly light-hearted for some of the darker content Arthur writes about but it makes for a really enjoyable read.
Book Two: Kissing Sin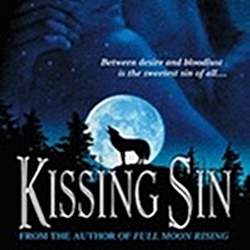 When Riley Jenson wakes up in a dark, barren alley covered in bruises and lying next to a dead man the she clearly wolfed out on, she can't remember a thing.
All she knows is that everything in her is telling her to get up and run. Bruised and naked, she quickly collides with a horse shifter named Kade who is fighting a battle of his own in the stalls nearby.
With old lovers gathering around her, Riley works to uncover the ones that violated her. She'll have to work fast though, because they've got a plan already in motion to obtain what they need from her to create the ultimate warrior.
With the help of Jack, her brother Rhoan, Kade, the sexy new horse shifter she met in captivity and Quinn, the super sexy vampire who can't get enough of her but hates her 'open' nature she digs into an operation much larger than anyone realized they were onto.
If you like Riley Jenson, you may also enjoy: