Every Which Way But Dead
by Kim Harrison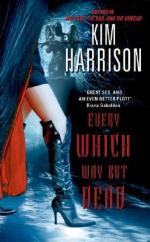 Every Which Way
But Dead
by Kim Harrison

Amazing series- this is one of the best in the series.
Comments from Webmaster
Oooh, I so appreciate this recommendation. :-) I have actually been holding out on the first book in this series,
Dead Witch Walking
.
For some reason or another I haven't cracked the cover yet, though I've thought about it on more than a few occasions.
Aaron (my husband) tried to read it and said it was really slow going, but I figure that's to be expected for a first in the series, right.
I've also been holding out putting these in my BooksFree queue so I can listen to them on audio. I wasn't quite sure if I'd like them, but now my mind is made up... of course I have to add them.
Thanks a bunch. We really appreciate it you taking time to share.
Shami
Hunters Book 1: Phantom
This is in the series of L.J Smith's Vampire Diaries..

For everyone (including myself) that wanted to cry of the loss of Damon Salvatore you will be overjoyed in this book when something happens that made me jump with joy.

Elena, Stefan, Bonnie, Meredith,Matt, and Alaric face yet another horrible disaster. The Kitsune twins had a leader, and she is slowly taking everyone one by one.

Bonnie- gone, Elena-gone, Stefan-gone!

This book is exciting, beautiful, amazing, and surprising!!