J.R.Ward
by Ilse
(Canada)
J.R. Ward is a phenomenal, paranormal romance author who is most well known for her Black Dagger Brotherhood series.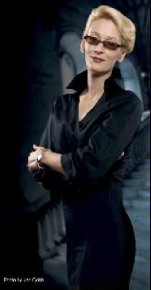 Author J.R. Ward

The
Black Dagger Brotherhood series
is about a race of vampire warriors in a war to protect their species from the Lessening Society. Even hard core protectors need love - but it always comes at a price.
With a touch of romance and strong on the paranormal, the Black Dagger Brotherhood is a series for both vampire and fantasy fans.
Who can resist the tortured heroes that are literally bigger than life. I never miss one of these and can't wait for the next one to come out.
Comments:
Ilse, thanks for sharing.
I agree. I can't seem to get enough of this series, or JR Ward for that matter. All her characters are larger than life and addicting to read about.
She's the kind of author that knows how to write without sugarcoating the truth of a situation. No matter how ugly, or how brutal things get, she stays true to her characters and her readers by keeping it real.
Another thing I love about J.R. Ward is the fact that she's great at mixing fast paced action with steamy, sexy romance, and still coming out with a well balanced story in the end.
It's been a while since I craved the next book in a series as long as this one, but I simply can't get enough of the BDB series. And I am certainly looking forward to the next book in her Black Dagger Brotherhood series, as well as her latest series, the Fallen Angels.
Shami