Kiss of Midnight: A Midnight Breed Novel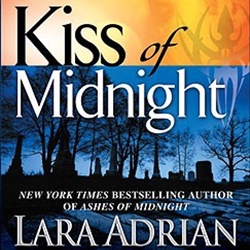 Kiss of Midnight is dark, passionate and super sexy. It's the story of Lucan Thorne, vampire of the Breed and a warrior sworn to protect his race from the growing threat of Rogue vampires.
The last thing he wants is the complication of a human woman he can't get out of his head.
But when Gabrielle Maxwell unknowingly witnesses a group of Rogue vampires devouring a man in a dark alley, Lucan has no choice but to bring her into his world... to protect her.
A vampire already on the verge of turning Rogue, Lucan's every day is a fight, if not against his enemies than against his own body. Any slip of control could be his last.
So why is it that he didn't recognize the tell-tale signs that told him being around Gabrielle Maxwell would tempt him past the point of control?
Her future lies in one of the Breed's Dark Havens, not with him. But her sweet, lavender scent and the way her taste lingers on his lips prove to be his undoing.
Five Things I Love About Kiss of Midnight

The tension between Gabby and Lucan is palpable at times. The intensity of their relationship grows as the story progresses and each time they're together you can almost feel the heat rolling off the pages. It's a emotional ride for both of them, certainly no cake walk, and that makes it easy to connect to them as characters.

Gabrielle's quiet strength. She's thrown into a world she didn't even know existed, finds out the man who claims to want to keep her safe has lied to her about damn near EVERYTHING, and yet, she stands strong. She's definitely not the whining type, and I love that in a heroine.

Even though Lucan's ability as a Breed male allows him to manipulate the minds of humans, Gabrielle is not susceptible to it. This is really the first time Lucan has ever felt completely out of control, and he's having a hard time of it. His struggle against blood lust and the urge to stake his claim on Gabrielle makes him much easier to relate to.

The action parts of the book didn't take away from the story. There's a good balance between romance and Rogue slaying. Adrian makes the transition between the intimate, emotional scenes and those with Lucan and the other Breed warriors on the hunt for Rogues a seamless one.

Kiss of Midnight stays true to the vampire romance genre. There are no werewolves, shape-shifters, witches or what-have-you. It's vampires, humans and ancients. That's it. Sweet and simple in an almost traditional way, don't you think. Something that's often hard to come by with all the different variations nowadays.
---
Recommended:
I highly recommend getting Kiss of Midnight in audio format.
I've listened to mine more than twice and still love it thanks to Hillary Huber's smooth, sultry reading style.
---
Recommended Reading