J K Rowling
Y.A. Fantasy Author Recommendations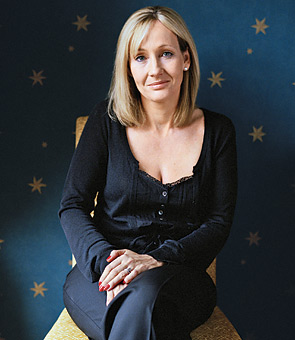 It's hard not to consider J K Rowling one of the best. She's a legend in the genre of young adult fantasy and the Harry Potter books are fantasy fiction at its best!
J.K. spins a fascinating tale full of both dark and wonderful characters written to perfection. Totally addicting to say the least.
It's no wonder she's the most popular children's author EVER, and so long as her books keep kids interested in reading I say there's nothing wrong with the almost cult like following she's built up over the years.
I'll tell you one thing... it will take one heck of an author to knock her off that perch.
It all started with an 8 year old boy named Harry Potter and a magical place called Hogwarts School of Witchcraft and Wizardry. From the very moment we delved into the pages of the first ever Harry Potter book, we were hooked. It's a story unmatched by any other and one we've read over and over.
It didn't take long after that first book was published for J.K Rowling to become one of the more popular authors in children's fiction. Yes, as the years progressed, Harry Potter's trials and hardships became ever darker and much more dangerous, but the story stands strong among the groing masses in the fantasy genre, and kids can grow up with a boy like Harry.
J K Rowling first began writing stories when she was six years old. She started working on the Harry Potter sequence in 1990, when, she says, "the idea... simply fell into my head."
The first book, Harry Potter and the Sorcerer's Stone, was published first in the UK in 1997, and then in the US in 1998. Since then, books in the Harry Potter series have been honored with many prizes.
Among those most notable awards are: the Anthony Award, the Hugo Award, the Bram Stoker Award, the Whitbread Children's Book Award, the British Book Awards Children's Book of the Year, New York Times Notable Book, the ALA Notable Children's Book and the ALA Best Book for Young Adults citations.
In addition, Ms. Rowling has been named an Officer of the Order of the British Empire, and she currently lives in Scotland with her family.
Books by this Author
Hover over the book cover to view the title and publication details.
Authors every Rowling fan should read:
Click on an author below for more information and current book lists. If you've read them all, click on one you liked and then click Authors like this one in the far right column for further reading suggestions.
Visit the official website of J K Rowling