The Harry Potter Series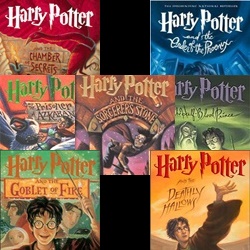 The Harry Potter series is one of the most popular book series for children and young adults, and one of our favorites here at BFB.
It chronicles the adventures of Harry Potter through all his years at Hogwart's School of Witchcraft and Wizardry and takes readers on an adventure the likes of which has never been outdone.
Along with his best friends Ron Weasley and Hermione Granger, Harry gets himself into (and out of) some really sticky situations involving sneaking around the school after hours without getting caught and various other forbidden extracurricular activities.
Each year they face even deadlier obstacles than the last, all leading up to the grand finale when Harry will finally have to face off with the Dark Lord Voldemort, one last time.
This is a really great series for readers of any age who enjoy fast paced books with lots of excitement. The first couple of books are quick, easy reads and each book after that progresses in both length and difficulty.
Harry Potter Series Book One: The Sorcerer's Stone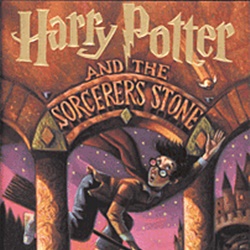 It's Harry's first year at Hogwarts School of Witchcraft and Wizardry, and the beginning of an adventure, and a fate, far bigger than he could have ever imagined. It's a wonderful story for readers of any age, and enjoyable enough to read again and again.
For the first time ever, Harry Potter is looking forward to something. He'll get away from his miserable life at the Dursley's and attend his very first year at Hogwarts.
He makes a few great friends, learns how to do magic and ends up in a whole lot of trouble along the way.
With the help of his new friends, Harry takes down a troll, gets to spend some much needed time with his parents through the glass of an enchanted mirror and snags the seeker position on the Gryffindor quidditch team.
Aside from everyone knowing who he is, Harry's first year is fairly standard... for a wizard. Accept for his exceptional knack for ending up right in the middle of everything most kids would steer clear of. The Sorcerer's Stone is exciting, fun and totally addicting.
You won't want to put it down, and you won't want to wait for book two once you finish this one so you might want to pick them up a couple at a time.
Harry Potter Series Book Two: The Chamber of Secrets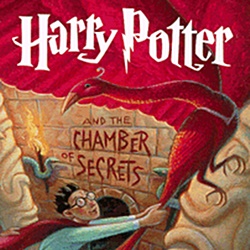 This is Harry's second year at Hogwarts School of Witchcraft and Wizardry and messages are appearing all over the school saying the Chamber of Secrets has been re-opened.
Along with these messages are threats against all the students of Hogwarts that aren't full blood witches or wizards. One-by-one, they start turning up petrified in various corridors throughout the school.
The Chamber has only been opened once before and Harry, Ron and Hermione are sure that if they figure out who opened it, they can figure out who's responsible for the sinister events that have been occuring of late.
Dodging teachers as much as wizardly possible and sneaking around to put the pieces of the puzzle together, the three of them learn a lot about the history of Hogwarts and past students who attended classes there, specifically Hagrid.
We thoroughly enjoyed book two in the Harry Potter Series . It is just as fun and suspenseful as the first volume, the Sorcerer's Stone and we tore through it just as voraciously. This is a definite must read for younger readers. It will keep them interested in books and hungry for more adventure.
Harry Potter Series Book Three: The Prisoner of Azkaban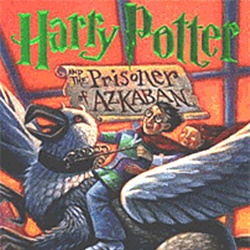 Alleged serial killer Sirius Black has escaped from prison and is headed straight for Hogwarts. The Dementors who are trailing him descend on the school and Harry is in more danger than ever.
For the last twelve years, the infamous Sirius Black has been housed at the dreaded wizards prison- Azkaban. Convicted of killing thirteen people with a single curse, and said to be the right hand of the Dark Lord, Voldemort.
Sirius is on his way to Hogwarts to finish what he started twelve years ago. Or so everone thinks.
This year is going to be huge for Harry. He is finally old enough to go to Hogsmead, which he's been dying to do since he started at Hogwarts. And this year danger is lurking around every corner. Is Hogwarts even safe for him anymore?
With an escaped killer on the loose, the dementors looming over the school and the re-appearance of someone long thought dead everyone in the wizarding world is on edge.
Once again, I am always blown away at the quality of the Harry Potter Series compared to so many others in the same genre. They are just so well written. The story is wonderful for readers of any age.
The Prisoner of Azkaban is full of full of excitement and suspense and it's packed with a cast of unforgettable characters. You don't want to miss it!
Harry Potter Series Book Four: The Goblet of Fire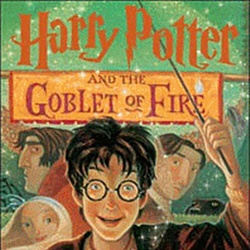 This year he turns 14, becomes interested in girls and witnesses the death of another Hogwarts student at the hands of Lord Voldemort.
Professor Dumbledore announces that the Triwizard Tournament will be held at Hogwarts this year, and that the students of both the Beauxbatons Academy and Durmstrang will be joining them until the tournament is over.
Students from any of the three schools is permitted to enter their name into the cup to compete in the tournament, so long as he or she is of competing age.
Harry is neither of age to compete or plans to throw his name in the cup, but he somehow ends up being selected to compete despite that fact and becomes one of two Hogwarts champions.
In this book Harry has to overcome some of the hardest challenges he's ever faced, and he's all on his own this time. Ron and Hermione can't go with him into the face of danger.
Since the competition hasn't happened in over 100 years and no one really knew what other option they had... Harry ends up being thrown to the proverbial (and literal) dragon in this book. And he does it with the grace and strength that only Harry Potter can pull off. ;-)
The Goblet of Fire is excitement galore! Harry faces down a real, giant sized dragon, swims the depths of the Hogwarts lake to retrieve something that was stolen from him and make his way through a deadly maze that's been grown on the quidditch pitch.
In the end Harry witnesses a tragedy, faces down Lord Voldemort yet again and loses a newfound friend.
Harry Potter Series Book Five: The Order of the Phoenix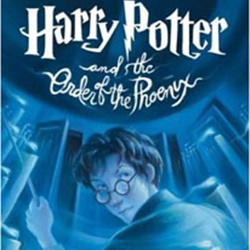 Professor Umbridge, Harry's new Defense Against the Dark Arts teacher goes out of her way to make Harry's school life miserable. Power definitely goes to her head and she starts raising all types of heck! She nearly ruins his only solace from the Dursleys.
Not only that, but he's got O.W.L.s to look forward to and those are just as terrifying as Umbridge. His new found family has an incredibly put-out house-elf that hates pretty much EVERYONE.
Ron some how ends up the new keeper for the Gryffindor Quidditch team, and on top of everything else... the threat of Voldemort and whatever it is he is planning looms over the entire wizarding world. Harry and the gang are naturally right in the middle of all the trouble, but what else could you possibly expect?
Book 5 is another wonderful volume in a series that will never get old. Kids are going to love these books everything they pick them up. Whether it be for the first time or the tenth time. They are that good. I am attached to a number of the characters right down to Harry's beloved owl Hedwig. Does that make me addicted? Or just a little insane?
Anyway... the action and excitement that have been building from book to book are starting to come to a head and the beginning of the end is just around the corner. It is ridiculously hard not to be drawn into the story. No reader should miss the experience of reading something that is so good you can enjoy it every time you read it.
Harry Potter Series Book Six: The Half-Blood Prince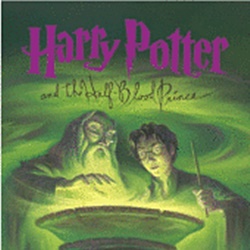 It's Harry's sixth year at Hogwarts and he's old enough now to learn how to apparate. This year is a really big one for everyone, especially Harry.
He'll suffer some major losses and make some truly difficult decisions before the year is up and Ron and Hermione will be right by his side. He finally learns where Dumbledore has been disappearing to and why, and what his ultimate role will be in the war against Voldemort.
In addition, he's been accompanying Dumbledore through past memories to try and understand the boy who became the Dark Lord. Maybe if they can find a weakness they'll be able to defeat him in the war.
If he and Dumbledore can find all of the horcruxes that Voldemort created, they might have a chance at killing him. Unfortunately for all of us, it's that time in the journey when not everyone is going to make it through and this year that loss is devastating.
On a happier note... the Weasley twins are expanding their hilarious business! YAY!! This year they are using the Howarts student body like a group of guinnea pigs in a science experiment, testing out all their crazy new candies and inventions.
In the end Harry has to make the ultimate decision about what he'll do next year and what role he's truly going to play in Voldemort's downfall. Ron and Hermione are right there with him, of course, but the bittersweet departure might be their last.
Harry Potter Series Book Seven: The Deathly Hallows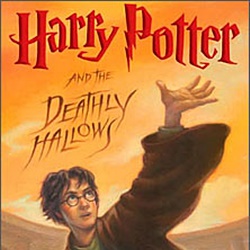 Now that Dumbledore is gone and Voldemort has gained control of the Ministry of Magic, Harry and the gang decide not to return to Hogwarts.
Instead, they are going on a mission to finish what Dumbledore had started. They have to find all three of the remaining horcruxes and destroy them.
The only knowledge they have about them is that two may be objects that previously belonged to the founders of Hufflepuff and Ravenclaw. The last, is Voldemort's snake, Nagini.
As they search for the Horcruxes, they learn details about Dumbledore's past and Snape's true intentions, and they get a good lesson in why you don't judge a book by its cover.
As the battle rages on, Harry's allies defend Hogwarts and their lives against Voldemort and the Death Eaters. Harry, Ron and Hermione eventually join the fight back at Hogwarts to finish their search for the Horcruxes.
They have almost no time to figure out their next move but if they can just find the Horcruxes...
Sorry about that. I'd hate to ruin the ending. ;-)
I will say however that in the end, Harry realizes that he is the only one who can defeat Lord Voldemort for certain reasons you may not know just yet. But to beat him he also knows that he might have to die.
You'll just have to trust me that this is a fantastic book. It's what you've been waiting for, and it delivers much anticipated excitement and suspense throughout every single page.
For any movie fans out there reading who haven't given the books a try... DO IT NOW! The movies based on the Harry Potter Series are good but this one did not do the book justice. The final battle was almost non-existent in the movie and that was the most anticipated part!
If you like the Harry Potter series, you may also enjoy: