The Fifty Shades of Grey Book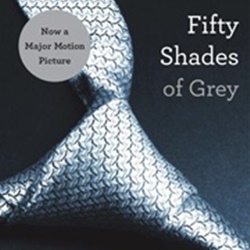 While I might be a little late to the Fifty Shades of Grey book bandwagon, I figured now was as good a time as any to post my review.
First, I'll get this out of the way up front because we all know it's coming. This book is HOT!
I admit that while I was eager to read it, I was a little apprehensive because I wasn't sure if I'd enjoy the whole bdsm scene.
I also know that while Fifty Shades of Grey hardly scratched the surface, I am eager to delve a little deeper into the sizzling world that E.L. James created with this series.
From the very first few moments of the story I was hooked. The tension between Christian Grey and Anastasia Steele was palpable and incredibly intense.
The chemistry between them and the unexplored 'agreement' between them was center stage the entire time. I thoroughly enjoyed every moment of their interactions with each other and with other characters in the book.
On the other hand, there are a few things that I didn't like so much. Like the fact that neither Christian nor Anastasia could understand where the other was coming from. It seems like he was the one doing all the compromising throughout their arrangement.
Another thing that bothered me was Ana's total obliviousness to almost everything around her. She's a smart girl. Sure a very average one if you see it from her perspective but the total obliviousness of Anastasia sometimes bothered me as well.
When it came to the major issue in the relationship he had a no touch zone practically tattooed on his body, and she was outright childish when it came to being reluctant for 'punishment'. But somehow in the end... it worked.
It was a huge part of the whole experience and so utterly entertaining I found myself up until the wee hours of the morning trying to stuff in as much reading time as possible to finish it. Fifty Shades of Grey was a nice introduction into the dark, seductive world of BDSM and the need to experiment with soft and hard limits.
This is a great way for someone not familiar with BDSM to get a taste of what it's all about. By the end of this book you'll either be entrigued and want more or totally put off and running the other direction. Either way, you should be right there with Ana as she makes the decision to know one way or the other if you can take what Christian Grey is dishing out.
The ending could have been slightly better for me. It wasn't bad, by any means, but in my eyes, to experience the 'worst' would have been much, much more than what it turned out to be.
I can't truly go into detail about what I mean without giving the ending away, but I will say that I can almost guarantee you that any kid old enough to know true punishment... the getting your ass busted kind... has probably experienced something along the same lines.
No matter though. I thought it was a great book and I look forward to reading the next: Fifty Shades Darker.
If You Enjoyed Fifty Shades We Recommend Reading: