The Best Pre-K and Kindergarten Books: Make Sure that First Year of School is a Happy One
Pre-k and kindergarten books are a great way to start easing your child into the idea of going to school before that intimidating first year actually starts.
So much is changing when your child is starting school for the first time. Unlike you though, your child has no idea what to expect and it's up to you to help him understand what school is all about.
Below you'll find a great list of books to help your child prepare for that first year of school, books to help your child understand what to expect during that often intimidating first year and books to help him transition into reading his first books and becoming a big first grader!
We want to make sure you have all the resources you need to make that first year (and every one after) a year to look forward to. Is there is something you'd like to see us add to this page? Click here to tell us about it
The Best Pre-Kindergarten Books: Gently Warm Your Child Up to the First Years of School
Does your kiddo seem to get a bit more 'attached' when you mention the 's' word? We put together a list of books geared toward kids who will be starting school for the first time. Reading preschool and kindergarten books like the ones listed below will help you ensure your little guy or gal knows what to expect on that first day of school and beyond.
Maisy Goes to Preschool
The Night Before Preschool by Natasha Wing
Countdown to Kindergarten by Alison McGhee
Curious George's First Day of School by H.A. Rey
The Night Before Kindergarten by Natasha Wing
Miss Bindergarten Gets Ready for Kindergarten by Joseph Slate
Kitty Cat, Kitty Cat, Are You Going to School by Bill Martin
The Berenstain Bears Go to School by Stan and Jan Berenstain
The Night Before First Grade by Natasha Wing

22 of the Best Books to Read Before the Kindergarten Year Ever Begins
Get your toddler excited about books with these fun, heart-warming stories by some of the best authors in the genre. Kindergarten books aren't all about going to school, of course... where's the fun in only reading about school? Get started long before the kindergarten year is set to begin because it will be here before you know it and you'll be wishing you had just a little bit more time to get ready for it.
Kindergarten is so much more these days than fun crafts, recess, napping and story time like the good old days. Kindergarteners are being sent home with actual homework. Simple math and learning to read are a large part of what your child will be walking into when school starts. Make sure he's prepared by getting the reading started early.
One Fish Two Fish Red Fish Blue Fish by Dr. Seuss
Where the Wild Things Are by Maurice Sendak
The Very Hungry Caterpillar by Eric Carle
Goodnight Moon by Margaret Wise Brown
Potty by Leslie Patricelli
If You Give a Mouse a Cookie by Laura Numeroff
The Little Engine That Could by Watty Piper
Green Eggs and Ham by Dr. Seuss
Curious George by H.A. and Margret Ray
Don't Let the Pigeon Stay Up Late! by Mo Willems
Love You Forever by Robert Munsch and Sheila McGraw
Little Blue Truck by Alice Schertle and Jill McElmurry
Goodnight, Goodnight Construction Site
The Giving Tree by Shel Silverstein
Brown Bear by Bill Martin
The Going to Bed Book by Sandra Boynton
Guess How Much I Love You by Sam McBratney
On the Night You Were Born by Nancy Tillman
The Velveteen Rabbit by Margery Williams
Aseop's Fables by Aesop
The Tales of Peter Rabbit by Beatrix Potter
The Real Mother Goose by Blanche Fisher Wright (Scholastic Inc)
15 More Wonderful Stories Your Child Will Absolutely Love to Hear Before Bedtime
To give your little one plenty to read, board books are a great, sturdy choice. Below you'll find a great starting point. These are 15 of the most highly rated board books currently available on Amazon.com. We've tried not to duplicate any we've already listed at some point on this page, so soak them all in because there are a lot of quality kindergarten books for little readers of all ages.
In addition to this list, we have an entire page devoted strictly to childrens board books of all kinds. Click here to view the entire list of recommended board books.
Potty by Leslie Patricelli
The Night Before Christmas by Clement C. Moore
Dear Zoo by Rod Campbell
Guess How Much I Love You by Sam McBratney
Peek-a Who? by Nina Laden
Where Is Baby's Belly Button? by Karen Katz
Animals by DK Publishing
Green Eggs & Ham by Dr. Seuss
The Velveteen Rabbit by Margery Williams
Are You My Mother? by PD Eastman
Alexander and the Terrible, Horrible, No Good, Very Bad Day by Judith Viorst
Open the Barn Door by Christopher Santoro
The Paper Bag Princess by Robery Munsch
Corduroy by Don Freeman
Happy Birthday to You by Dr. Seuss
26 More Fun and Heart Warming Books Your Child is Sure to Adore
Looking for some great books to share with your child throughout those first few years of pre-k, kindergarten and first grade? We've gathered the best of the best before, during and after kindergarten books that kids actually enjoy reading, and we've listed them here for your convenience.
Kids between the ages of 2-5 years old will absolutely fall in love with these stories and they will beg you to read them read them again and again. What better reward is there than the look on your child's face when he gets to experience the wonders of a well crafted children's book.
First 100 Words by Roger Priddy
The Day the Crayons Quit by Drew Daywait
Oh, the Places You'll Go! by Dr. Seuss
The Ugly Duckling by Hans Christian Andersen
Through the Looking-Glass by Lewis Carroll
Alice's Adventures in Wonderland by Lewis Carroll
The Wonderful Wizard of Oz by L. Frank Baum
Giraffes Can't Dance by Giles Andreae
Brown Bear, Brown Bear, What Do You See? by Bill Martin Jr
Anne of Green Gables by Lucy Maud Montgomery
The Adventures of Huckleberry Finn by Mark Twain
The Secret Garden by Frances Hodgson Burnett
Charlotte's Web by E.B. White
Charlie and the Chocolate Factory by Roald Dahl
The Pout-Pout Fish by Deborah Diesen
Rikki-Tikki-Tavi by Rudyard Kipling
Matilda by Roald Dahl
Pete the Cat: I Love My White Shoes by Eric Litwin
Moo, Baa, La La La ! by Sandra Boynton
Magic Tree House Collection by Mary Pope Osborne
The Jungle Book by Rudyard Kipling
The Paper Bag Princess by Robery Munsch
Corduroy by Don Freeman
Dr. Seuss's ABC by Dr. Seuss
Cars and Trucks and Things That Go by Richard Scarry
A Charlie Brown Christmas by Charles M. Schultz
First Time Readers Will Absolutely Adore These Easy To Read Stories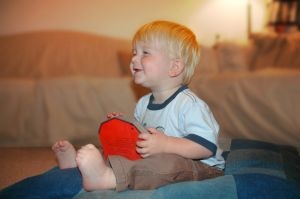 If you're child is learning to read it's not always easy to find books that are suitable for first time readers. Keep him occupied and making progress on his reading scale with a sparkle in his eye and a smile on his face.
These books are super fun and totally addicting. Not to mention the fact that you can be a proud mama or papa knowing your child is taking to books so well because he'll be begging you for more, I promise! We're working on a more complete list that will be split out on a dedicated page. In the meantime, these should get you off to a wonderful start.
Green Eggs and Ham by Dr. Seuss
Bob Books by Bobby Lynn Maslen
Go, Dog. Go! by P.D. Eastman
May I Please Have a Cookie? by Jennifer Morris
Frog and Toad Are Friends by Arnold Lobel
Pete the Cat by James Dean
Dinosaurs Before Dark by Mary Pope Osborne
There's No Place Like Space by Tish Rabe
There Is a Bird on Your Head! by Mo Willems
Little Bear by Elsa Holmelund Minarik and Maurice Sendak
The Berenstain Bears and the Spooky Old Tree by Stan and Jan Berenstain
Recommended Reading: Beyond Just Kindergarten Books
Share some of the classics with your child at bedtime: Whether it's Aesop's Fables, Mother Goose's Fairy Tales or another of your favorite childhood stories, share that magic with your child and make it a family tradition. Here's a great list to get you started with some of the very best classic children's books ever written.
---
Dr. Seuss is one of the most beloved authors in the children's fiction genre: He has put a smile on millions of young little faces and helped millions more become acquainted with their very first books. The fun rhymes and silly, talking beasts he created have stolen the hearts of parents, teachers and children alike and we've done our best to bring the best of Seussville to you! Check out our favorite Dr. Seuss books ever