The Undertaker by William Brown
Pete Talbott is surprised when he picks up the newspaper and finds his own obituary alongside his his recently deceased wife's.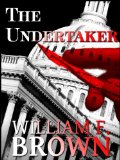 The Undertaker

What first seems like a mistake turns into a whole lot more when he realizes that someone is burying bodies under other people's names.
This story has it all... mafia hitmen, a car chase on the Dan Ryan, the FBI, witness protection, a crooked funeral home, sleazy lawyers and a great terror scene with an embalming table and a scalpel.
It's a chilling but fun, fast paced read with humor, a little romance and a joy ride that takes readers from Ohio to Chicago to Boston to New York.
The Undertaker
is William Brown's 6th suspense novel and it is currently available in e-book format for the Kindle and Sony e-readers.