Tate Jackson
by Tate Jackson
(Clarksville, Tennessee, USA)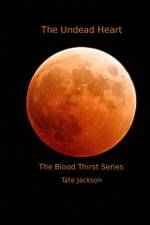 The Undead Heart by Tate Jackson

I love Tate Jackson because, well... she's ME! I'm writing a series of vampire romance novels for adults, called The Blood Thirst series.
I wrote this series for people who liked Twilight, but found it a little too 'kiddish'.
The Undead Heart is written for more grown-up readers, however, it is not an erotica novel.
The first book in the series, The Undead Heart, has already been released, and it is currently available in
paperback
,
Nook
and
Kindle
formats.
For more information about The Undead Heart and to read reviews for it, check out my website
www.thebloodthirstseries.weebly.com
HAPPY READING!!