Sugarfree by Elle Bea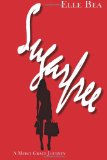 Sugarfree

This book is phenomenal (and I should know)!
As a Christian striving daily to be the best that I can be, by the grace of God, I sometimes falter, and so does the protagonist in Sugarfree.
Merci Grace Cane is a Christian, Private Investigator in search of the source of an illness that nearly killed her.
The search takes her on a journey of self discovery and tests areas of her faith. Will she prevail or will sin prevail?
Sugarfree
is a great inspirational, suspenseful and entertaining read.
Enjoy!