Stephen R. Donalson
by Damon Caraway
(Austin, Texas)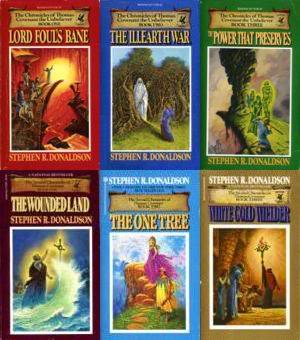 Stephen R. Donaldson's titular protagonist, Thomas Covenant, is in the truest sense of the phrase an anti-hero.

His unbelief in the land, to which he was magically drawn was refreshing and ground breaking in 1977, and after influencing a myriad of newer authors, still is.

The richness of the land and characters adds extensive depth to the story and offsets Covenant's own negativity and unwillingness to be a willing participant.

Donaldson's Covenant is gritty long before George R.R. Martin ever hit the stage. His first trilogy "The Chronicles of Thomas Covenant the Unbeliever" is followed by another trilogy, "The Second Chronicles of Thomas Covenant."

Donaldson is currently writing the fourth, and final, installment of his tetrology "The Last Chronicles of Thomas Covenant" due out in October of 2013.