Livin' in High Cotton
by Sandra Poole and Jennifer Youngblood
(South Jordan, Utah, USA)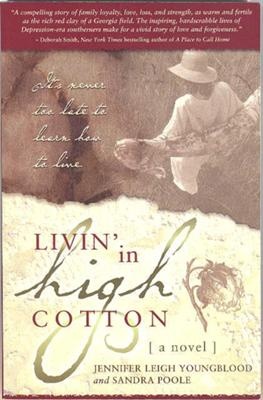 Livin' in High Cotton

Set against the rich tapestry of the South during the late 1920s and early 1930s, Livin' in High Cotton, is a celebration of life and traditional family values.
It is a story of love, betrayal, and indomitable human spirit in the face of adversity. It is about a young girl, growing up, who realizes that love is full of second chances, and that it's never too late to learn how to live.
Cultured, graceful, feisty Shelby Collins is the epitome of a southern lady. Her secure world is turned upside down when her father, in a drunken rage, attacks her.
Fearing others will learn of his treachery, he kidnaps her, takes her to a reform school, and abandons her.
In utter despair, Shelby is sure that her life is over - but sometimes life's blessings come in the most unexpected ways.