It's In His Smile
by Shelly Alexander
(Albuquerque)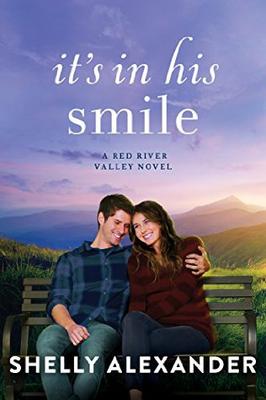 Excerpt from Chapter 1
Miranda Cruze was sure that getting hot and bothered at a wake broke at least one of the unwritten rules of funeral etiquette. Especially since she was the hostess.
Ms. Bea, Miranda's friend and mentor, deserved more respect.
The scent of freshly baked oatmeal and raisin cookies drifted over the bar that separated the kitchen from the dining area to fill the room and hopefully bring some comfort to the mourners. Miranda pulled the last batch from the oven and dished them onto a plate with a spatula.
The heat climbing up her legs to settle between her thighs was from the oven, right?
Right. Of course it was the oven. Or her black formfitting pants. She probably should've bought the next size up.
It definitely was not because of Bea's hot and handsome grandson, Talmadge. His mere presence was absolutely not the cause of her throat turning to chalk dust or her rusty girl parts turning a flip or her need to stay on the other side of the funeral parlor, the other side of the graveside service, and the other side of the room. All damn day. Until she felt like she'd been playing a game of keep-away and he was it.
No, the heat seeping into every single inch of her five-feet-two-inch body was not because of Red River's prodigal son -- a leader in green architecture made famous for his environmentally friendly designs and for bringing hotel chains around the world into the age of energy efficiency -- come home to bury his beloved grandmother.
Definitely the oven. She kicked it closed with her black ankle-booted foot. With a toss, her oven mitt landed on the outdated Formica counter.
When she'd bought the small Victorian inn just off Red River's Main Street from Bea Oaks five months ago, she hadn't considered that her first public event would be to mourn the loss of her old friend. She hadn't considered that she'd have to figure out how to run an inn on her own without Bea's experience and advice. She hadn't considered that before opening for business, the renovations would chew up most of her savings from waiting tables since she was fifteen.
Obviously, Miranda needed to spend more time considering.
She waded through the ocean of mourners, offered condolences, sidestepped a few boxes of tile that her contractor still hadn't installed, and placed the fresh plate of cookies on the table of picked-over food.
She arranged a few serving dishes, straightened the stack of napkins, made sure enough clean silverware was available. And then she had no choice but to turn her attention to the roomful of saddened guests who had no idea how much Miranda was really going to miss Beatrice Oaks.
No one except...
Miranda's stare settled on Talmadge, who was standing on the far side of the inn's large dining room. His injured arm in a sling under his suit jacket, he chatted with a middle-aged couple.
For the tiniest moment, her heart beat in an odd cadence before it caught the right rhythm again.
She had known Talmadge would come to his grandmother's funeral. Of course he would. But a small part of her had hoped he wouldn't show. Another teensy weeny part of her had hoped he would.
Wouldn't. Would. Wouldn't. Would.
And then there he had been, his broad shoulders filling the funeral parlor doorway. Eyes rimmed in red for the grandmother who'd raised him.
As they'd done then, her insides were back to doing the jive like she was a contestant on Dancing with the Stars. Or a pole dancer at a gentlemen's club. Because Miranda was pretty sure that only a person of questionable habits would have carnal thoughts at a funeral. Another wave of heat flamed through her. Gah!
Sandy hair slicked back, Talmadge's strong jaw moved as he spoke to the middle-aged couple. Mid-sentence he turned and locked gazes with Miranda like he knew she'd been watching him. His lips stopped moving, and he just stared at her.
The hint of a smile settled onto his lips, and she suddenly found it hard to breathe.
Her gaze flitted away, and she offered a kind word to a guest who walked past, then busied herself with rearranging the food. Maybe the ham should go next to the mashed potatoes? Should her homemade oatmeal cookies really be next to the sauerkraut? And should her obnoxious female pheromones be spewing sexual attraction so close to the deviled eggs?
That might actually be a health department violation, now that she thought about it. Note to self: no pheromone spewing when the inspectors come to give their stamp of approval.
Talmadge returned his attention to the couple, shook the man's hand, and headed...toward her.