Blood For Love
by Chris M. Finkelstein
This is the story of Jan, a gifted male D'otian living on a violent, predatory planet. His mother Martha is part of a love-preservation network — outlawed by a world in which love is punished by DeathBT (Death By Torture.)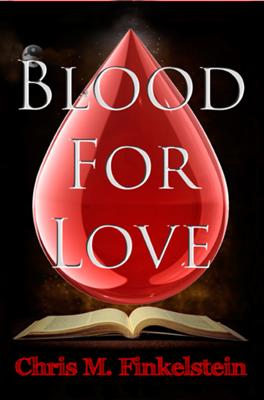 Blood For Love

Thus begins this thrilling adventure, which explores the dichotomies of survival vs. love, intense fear vs. amazing bravery, imprisonment vs. freedom, discipline vs. epiphany, heaven vs. hell, God vs. "God", good vs. evil, and life vs. death.
Chris M. Finkelstein imperceptibly weaves these themes into a page-turning and shocking tale, guaranteed to take you on a ride that will leave you wanting more.
A thoroughly unexpected but satisfying ending helps to sooth the emotional sucker punches the reader has experienced.
Can the reptilian humanoids overcome their violent nature? What will they do with freedom? Can they control what they have found in the hidden temple? Will you be able to get this book out of your head after reading it?