Auctioned Off- Erotica
by Leigh Tierney
(New York)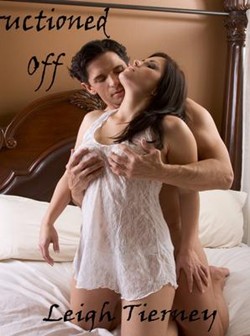 Lanie White has a problem. A few days ago she received an acceptance letter from Stanford University- the school of her dreams. She should be celebrating! But because of her estranged father's finances, she doesn't qualify for financial aid.
Rather than risk graduating thousands of dollars in debt, she's heading to the Lovin' Rabbit Ranch in Las Vegas to sell the only valuable thing she possesses- her virginity.
The owner of the ranch, Bud Hollis, is thrilled to be of service to Lanie. But first he examines her himself and then enjoys watching a medical doctor be even more thorough.
Once her virginity is ascertained, Lanie is presented to the winner of the auction who is rough, kinky, and determined to get his money's worth.
The night Lanie loses her virginity is one she will certainly never forget, and filled with both pain and pleasure. She is exposed to restraints, toys of all sizes, oils and an interesting way to use a Jacuzzi.
Because of the hidden cameras capturing Lanie's exquisite torment, Bud Hollis is so turned on that his needs are met by his gorgeous and not particularly willing assistant, Veronica.
Auctioned Off is not for the faint of heart. Hot, explicit, kinky sexual escapades!!!!
This book is part of a series. Currently there are three parts.... but I definitely plan to write more!
I am also the author of the Enslaved series, about a young woman who has decided to ditch her boring fiancé to take a walk on the wild side and fulfill her fantasy by becoming a sex slave to a very demanding Master and Mistress.
Smashwords
http://www.smashwords.com/books/view/146153
Available in Amazon Kindle format
Visit my Author Page