Werewolf Books with Bite: Kissing Sin
Best Adult Paranormal Romance Books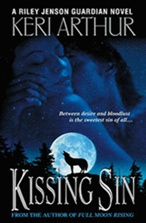 Kissing Sin is the first volume in one of my favorite series of werewolf books by Keri Arthur- the Riley Jenson Series.
This is another steaming HOT chapter in Riley Jenson's life that I simply couldn't put down. It was just as good as the first and even more exciting.
Kissing Sin Book Summary
Two worlds: Vampire and Werewolf. Danger has never been so seductive.
From Melbourne's gleaming skyscrapers to its throbbing nightclubs, Riley Jenson's world is raging with danger and desire.
A drop-dead-gorgeous-werewolf- with a touch of vamp coursing through her blood- Riley works for an organization created to police the supernatural races.
But when she wakes up naked and bruised in a barren alley, she knows only that she must run for her life.
Within moments Riley collides with the sexiest man she's ever seen: steely, seductive Kade, who is fighting a life-and-death battle of his own.
With old lovers and enemies gathering around her, Riley knows she is being pursued by a new kind of criminal.
Because in Riley's blood is a secret that could create the ultimate warrior- if only she can survive her own dangerous desires...
Our Rating for Kissing Sin
Read a free book excerpt from the Kissing Sin eBook
Our Review of Kissing Sin
After having her life turned upside down in Full Moon Rising, Riley Jenson is only just beginning to get back to a somewhat normal life.
But when she wakes up naked in an alley next to a very dead man, she's more than a little confused at how she got there. And how the hell she managed to lose the last eight days of her life.
It doesn't take long for her to figure out that she and a group of other shifters are prisoners in some type of breeding camp. And that she is being hunted by the very people she thought she and the Directorate had taken care only months ago.
With the help of a past lover- the sexy vampire Quinn who vows to make Riley his and his alone, her twin brother Rhoan, and a sinfully seductive horse-shifter who can't seem to keep his hands off of her, Riley must uncover the truth about the man responsible for making her life the hell it has become.
And as she is once again thrown into the middle of an investigation that she should never have been a part of in the first place, she comes face to face with some of the most disgusting and dangerous creatures she... or the Directorate... has ever encountered.