Night World: Strange Fate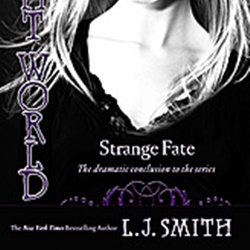 If the rest of the Night World series is anything to judge by, Strange Fate is going to be one heck of a story.
Though all we have to go on is a brief summary that gives us absolutely nothing about the true depth of the book, we can surmise from what's been released so far that many of our favorite characters may not survive the upcoming battle.
Even more, the main character, Sara Strange is connected by not one, but two silver cords to the two hottest boys in school, Mal Harman and Kierlan Drache.
As yet, we know nothing about either of them, or Sarah Strange for that matter. Except for the fact that she's plagued with strange dreams that predict the fate of the human race.
What details do we get from the official book summary? Only that Night Worlders alone can prevent the human race from becoming slaves and vampires and dragons from ruling the world.
Of course from all of this we can be certain that the Apocalypse has arrived, and there's only one way to stop the human world from being destroyed for all eternity.
As epic as this battle will surely be I'm a little hesitant going in because I don't want to lose any of my favorite characters. I've read the first three volumes of the series a couple of times and have gotten rather attached to some of them.
The official summary says that six will go on a mission to save the world and only two will come back. Who they are and the fate of everyone else remains to be seen.
What's waiting for readers in the Night World finale?
From the moment I picked up volume 1 of this series, I was hooked. There are so many unanswered questions going into Strange Fate that I'm not quite sure where to start.
I am dreading the fact that some of the characters I've come to love may not survive. Hopefully, L.J. Smith has found a way to provide at least a semi-happy ending for us, but a battle as big as the one coming is sure to cause some tragedy.
Two soul mates? Really? There's no way she has two soulmates. I don't know what the plan is, but hopefully it includes a really nice twist that will make this situation work out some kind of way I'm not imagining. Otherwise, this could be a story killer for me.
All in all, I cannot wait to get my hands on Strange Fate. I'm am dying to know how the Night World series ends and I'm gearing up for an Apocalypse style battle, like most other fans, but why-oh-why are they torturing us?
PLEASE STOP PUSHING BACK THE RELEASE DATE. YOU'RE KILLING US!
Sorry. I just had to say that because every time I check the Web for info on Strange Fate I am disappointed yet again that this book is still not even close to being published.
I cannot believe the release date for Strange Fate has been changed again. This time to 2030! They can't possibly expect us to wait forever, can they?
Oh, right... we already have! ;-)
If You Enjoyed Night World We Recommend Reading: